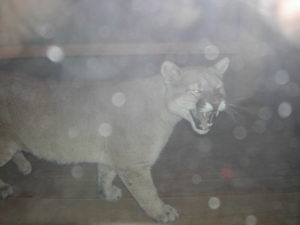 Once again, a "cougar story" is circulating the Southern tier area in New York. The pictures attached to the e-mail have been circulating for years!  The same exact photos circulated a few years back as being taken at a cabin in Steuben County by a woman who owns the cabin.  They, and the whole "cougar story" are pure BS.   The photos are old and circulated in Michigan many years back along with the same kind of story, trying to make people believe they were taken there recently.  The photos were actually taken at a cabin out in Lander Wyoming by Dr. Dave Rogers.  It appears that the writer of this original e-mail also thinks that Pumas, Mountain lions and cougars are all different types of animals.. Check out this link and read about the photos and story circulated on the internet, as well as about the true story about the photos:
http://www.snopes.com/photos/animals/patiomountainlion.asp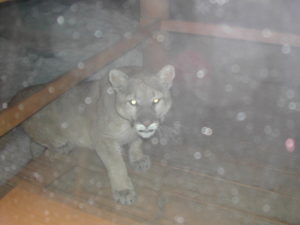 The local game wardens keep denying they released cougars because they didn't release cougars. they didn't release coyotes either, but they just can't stop folks from making stories up and trying to create hysteria.  Unfortunately gullible people will always believe this stuff and perpetuate it.
Read the recently circulated e-mail hoax below:
These pictures where taken of a Puma/Mountain Lion on Hoag Rd. Feb. 17th 2007 outside of Busti, NY . This is in our area! I have heard many people talking about spotting mountain lions and puma's running around in the area, but the New York State Game Warden keeps denying it.  They keep re-enforcing that it's rumors and that they have not released these types of animals into our area to control the population of the coyotes.  Well here is the proof!

I know I saw something that looked like a puma, which I believe can also look from a distance like a cougar/mountain lion about a year ago running across Hunt Rd . I had to do a double take, just the way it moved I knew it wasn't a dog nor a fox!  It's obvious the women who took these pictures did not frighten off the wild cat with the flash from the camera as well as her presence.  I'm just wondering; did these people who released these big cats into our area ever stop to think about the possibility of the cat's not going after the coyote population and maybe going after domestic animals and possibly small Children, hey why not even a person jogging thru the woods or on a country road.

As described from the photo's , the wild cat was on this woman's deck on Hoag Rd. interested in her two domestic cats that just happen to be sitting on the inside of that very thin glass door.  It's obvious the large cat is not scared of the human or domestic presence!  That really worries me!  I know there is something in our woods behind Sunset Dr, in the area of Baker St, Shadyside Rd, and Hunt Rd. in Busti/Lakewood, NY.  A few years back my parent's boxer (dog) was attacked by something that left a nice laceration on her back and back leg area, causing her to get stitches.  Well I know I don't feel too safe walking around outside at night!
| | |
| --- | --- |
| | |