In early 2016, within weeks of eachother, Fox Wood wildlife Rescue, Inc President and Founder, Elise Able used her knowledge of dogs and her trapping skills to humanely capture two very elusive dogs that no one else could catch.
The first dog, named Lollie,  originated in the Bahamas as a "Street Dog".  She was essentially a wild dog.  A rescuer trapped her, among others, and transported her to Western New York to a rescue who were to foster her, then adopt her out.  Unfortunately, inexperienced with such a skittish dog, Lollie easily escaped from her foster home on Grand Island, NY.  The rescue and volunteers tried to catch her, but the more they tried, the more Lollie evaded them, and she eventually crossed the Grand Island Bridge and into the City of Niagara Falls where she continued to elude potential rescuers.  Everyone involved was frustrated, including the rescue, searchers, Niagara Falls Police and Animal Control.  Elise Able took over the mission of capturing Lollie about 32 days after Lollies escape.  She met with rescuers who had done the valuable groundwork of tracking Lollies every move, and set a trap at a location where Lollie was sure to return.  The rescuers were all taught how to re-set and re-bait the trap, how to let non-target catches out of the trap and when to check the trap.  Three days later, Lollie went into the trap and was safe! She was returned home to the Bahamas where her original rescuer will keep her forever.
The second dog  in 2016 was lost on September 30th, 2015.  'Murray" was a very timid Border Collie mix who was recently adopted by a family in East Aurora.  He had gotten terribly frightened when he ran through his Invisible Fence and got shocked.  Murray ran for miles, then was seen only a few times in West Falls, then once in S. Wales a month later, then not again until late January.  We  suspect that when he was seen in South Wales, it was during hunting season, and Murray was afraid of gunshots.  In late January, Murray was sighted and photographed by a bird watcher with a sharp eye who was familiar with Murray's story.  A feeding station was immediately set up, and once trail cameras confirmed that Murray was eating at the feeding stations, a trap was set.  Two nights later, Murray was captured in the trap and is once again home and safe!
Make no mistake, these captures were not done by luck. Elise Able has been a licensed Nuisance Control Agent for many years. She has practiced her trade on foxes, coyotes, raccoons, skunks, cats,  and other dogs needing rescue for many years.  Studying these animals, knowing their habits, likes, dislikes, and the behavior of them all are essential to successfully capturing a target animal.  A good trapper not only knows how to capture their target animal, but how NOT to capture the non-target animals. A strong and thorough  knowledge of wildlife and domestic animals is key to successfully bringing a lost dog or cat home.
Elise Able works behind the scenes , and doesn't care to be in the spotlight, but she has brought more elusive, lost and timid dogs home than anyone we know.  Please support Fox Wood and their valuable work bringing lost dogs home.  The equipment, traps and materials are expensive! Experience and knowledge doesn't come without extensive time spent learning the trade.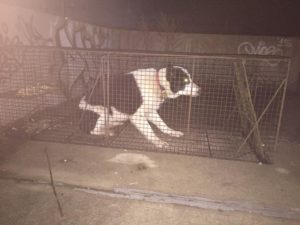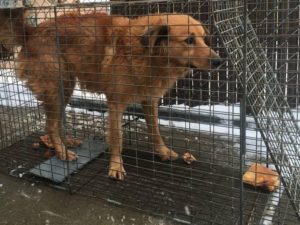 Above Top,. Black and white dog is Murray. Second photo of the brown dog is Lollie!